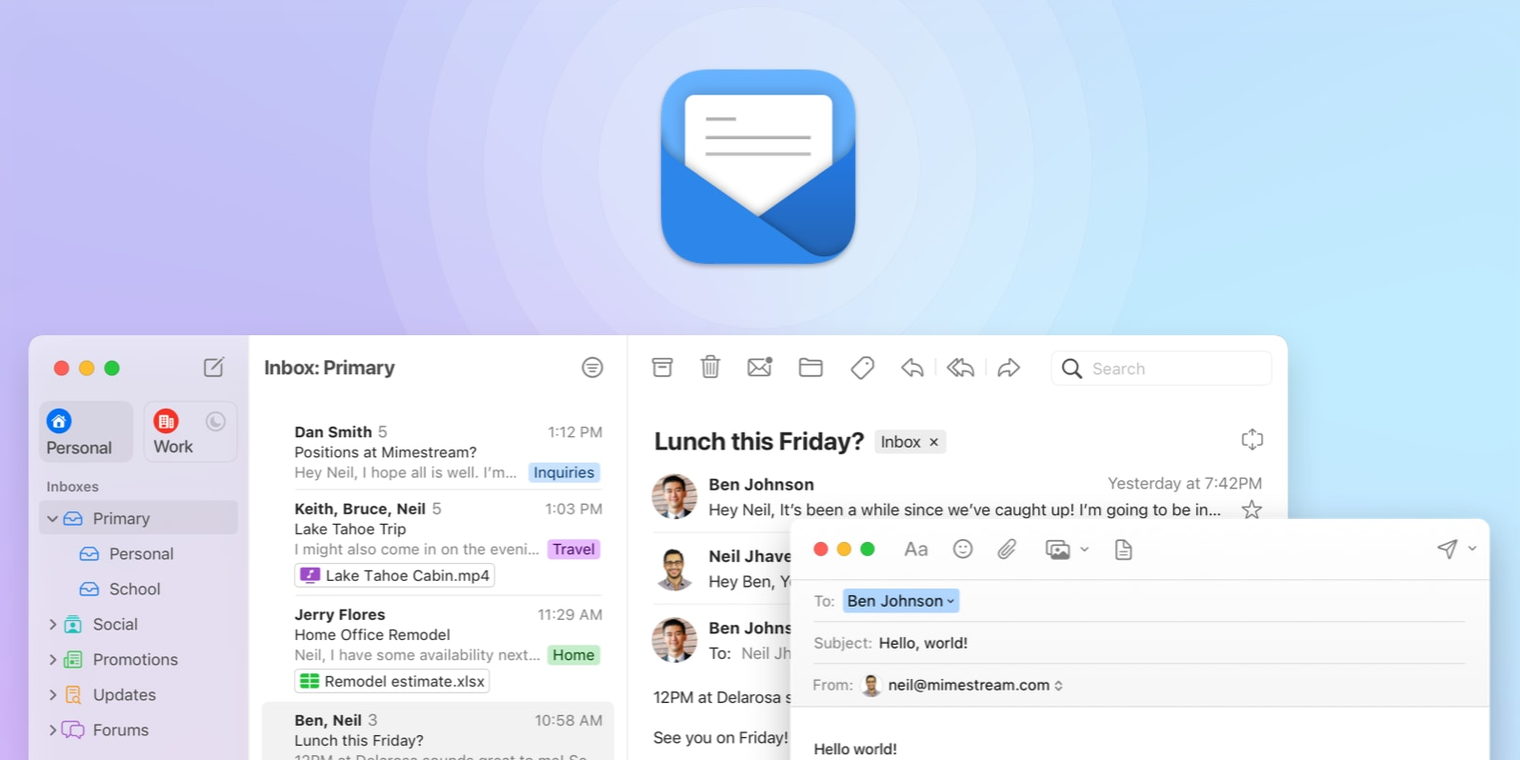 at 1:05 PM
Gmail client for macOS Mimestream exits beta and launches version 1.0
Former Apple Mail engineer, Jim Neumann, has officially launched Mimestream, a powerful Gmail app built specifically for macOS. After exiting beta, Mimestream has released version 1.0, which combines the power of macOS with Gmail's advanced features to provide a new kind of email client that lets users move through their email effortlessly.
Mimestream uses the Gmail API for a lightning-fast experience that's full of features. On top of the already powerful beta feature-set, Mimestream 1.0 introduces over 10 new features, including advanced triage functionality (such as labels, inbox categories, server-side filters…), a way to organize multiple accounts and bring them together with a unified Inbox, and much more.
A fully functional 14-day trial is available for download, and after the trial period, pricing for Mimestream is $49.99/year or $4.99/month. Plans for teams and companies are also available. During the launch, Mimestream is offering 40% off the first year of an annual plan, making it $29.99. This offer is available until June 9th, 2023.
Mimestream has received positive reviews from users during the beta phase, with many praising its speed and ease of use. The app is designed to be intuitive and user-friendly, with a clean and simple interface that makes it easy to navigate. For those looking for a new email client, Mimestream offers a powerful alternative to traditional options.
Did you find this interesting? 
Yes
No
Read More
Mimestream on AlternativeTo

Mimestream
  7
Mimestream is an email client that allows you to integrate your Gmail account and manage multiple accounts with ease. With its handy shortcut keys and user-friendly interface, it's a great alternative to other popular email clients like Spark Mail, Postbox, and Canary Mail. Users have rated Mimestream an average of 3.5 stars, making it a solid option for anyone looking for a reliable email client.
Comments on 'Gmail client for macOS Mimestream exits beta and launches version 1.0'
Maoholguin
I've been really impressed with how stable Mimestream is since I tried it, especially in terms of speed. I'm excited to see what new features are being implemented now that it has been officially released 👀