Sverchok
Sverchok is a parametric tool for architects and designers. You can use it to program objects' shapes without knowing any programming languages.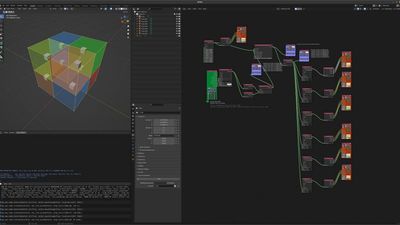 What is Sverchok?
verchok is a powerful parametric tool for architects, allowing geometry to be programmed visually with nodes. Mesh and geometry programming consists of combining basic elements such as:
lists of indexed Vectors representing coordinates (Sverchok vectors are zero based) lists of grouped indices to represent edges and polygons. matrices (user-friendly rotation-scale-location transformations) Possibilities
Comes with more than 150 nodes to help create and manipulate geometry. Combining these nodes will allow you to:
do parametric constructions easily change parameters with sliders and formulas power nodes such as: Profile parametric, UVconnect, Generetive art, Mesh expression, Proportion edit, Wafel, Adaptive Poligons (tissue vectorized), Adaptive edges, ExecNodeMod, Vector Interpolation series of nodes, List manipulators, CSG Boolean, Bmesh ops,Bmesh props, etc do cross sections, extrusions, other modifications with hight level flexible parametrised and vectorised node tools calculate areas, volume, and perform other geometric analysis make or import CSV tables or custom formats use Vector fields, create them, visualize data. even code your own custom nodes in python with Scripted node make your own 'addons' on node layouts and utilise them with Sverchok 3dview panel in your everyday pipeline access to Blender Python API (bpy) with special Set and Get nodes upgrade Sverchok with pressing one button make your own neuro network and much, much more!
Sverchok Screenshots
Sverchok Features
Sverchok information
GitHub repository
 2,080 Stars
 231 Forks
 162 Open Issues
  Updated 
View on GitHub
Comments and Reviews
No comments or reviews, maybe you want to be first?
Post a comment/review
Recent user activities on Sverchok