PeaZip
PeaZip is free file archiver utility, based on Open Source technologies of 7-Zip, p7zip, FreeArc, PAQ, and PEA projects.
Mac

Windows

Linux

BSD

PortableApps.com
What is PeaZip?
PeaZip is free file archiver utility, based on Open Source technologies of 7-Zip, p7zip, FreeArc, PAQ, and PEA projects, for Linux, macOS and Windows.
Cross-platform, full-featured but user-friendly alternative to WinRar, WinZip and similar general purpose archive manager applications, open and extract 200+ archive formats: 001, 7Z, ARC, ARJ, BZ2, CAB, DMG, GZ, ISO, LHA, PAQ, PEA, RAR, TAR, UDF, WIM, XZ, ZIP, ZIPX...
PeaZip is released under Open Source LGPLv3 license, free for any use (private and professional), all PeaZip packages are secure downloads and do not contain advertising or harmful software. Moreover portable packages does not need installation: simply extract and use the application.
PeaZip provides fast, high compression ratio multi-format archiving, and a complete, powerful file manager for viewing, browsing and searching archive files, featuring a wide set of data security functions: strong encryption (AES, Twofish, Serpent), encrypted password manager, optional two-factor authentication (encryption with password and keyfile), secure delete, and file hashing tools.
Written in

Lazarus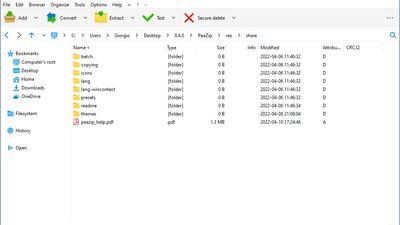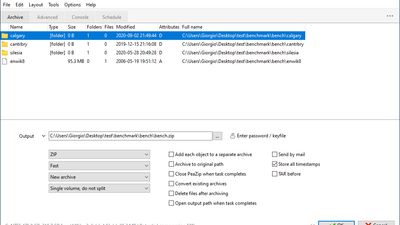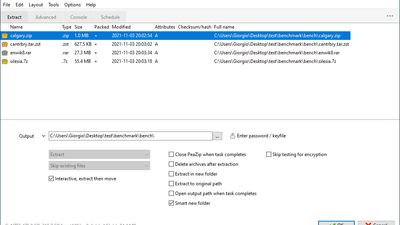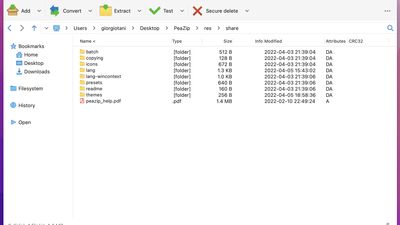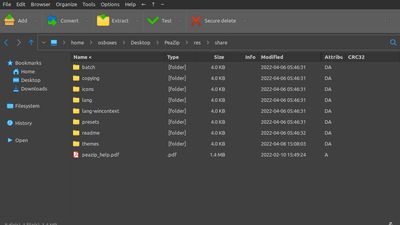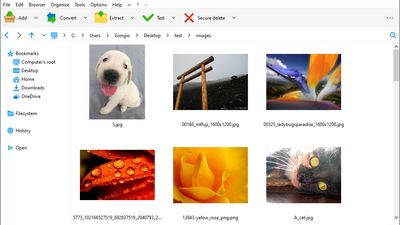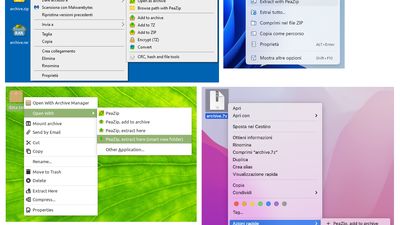 PeaZip Features
PeaZip information
Developed by

PeaZip srl

Licensing

Open Source (LGPL-3.0) and Free product.

Rating

Average rating of 3.6

Alternatives

93 alternatives listed
GitHub repository
 2,271 Stars
 154 Forks
 16 Open Issues
  Updated
View on GitHub
Comments and Reviews
Tags
Encryption

Secure Delete

Linux

File Manager

zip

tar

7zip

unpack

zipx

lazarus

file-utilities

archiving

expansion

decompression

rar

unzip
Recent user activities on PeaZip
bonkintime

liked PeaZip

yogvr

liked PeaZip

smess

Upvoted a comment on PeaZip

Finally Peazip became all I dreamed of. I want first to throw this here, since people care more for speed rather than anything else. When it comes to 7z and zip archives, 7Zip is faster than Peazip.. much faster! With that out of the way.. So for anyone looking for speed, stick to 7Zip. For anyone that wants a Swiss army knife, read on. I came here from a review on IZArc, which was the only Multi-type archiver I knew afar from this one. After leaving an as negative as possible review for that one, I want to comment on my current favorite, Peazip. Peazip has been for the last 4-5 years, if not more, an archive program I used on the side to do what the major programs I had could not. Now it can do these and even more. Winrar was my main extraction tool, mostly because I could open an archive that included a program in it for example, that had more than just one file and Winrar would run it as if I had it extracted in a folder. It made installation of program with multiple files easy and clean, since I did not have to extract the archive first. **Peazip now supports running anything straight from the archive without first unzipping it!** FreeArc and 7zip were and kind of are my main compression tools. FreeArc, which has been discontinued on 2012 with 0.67 alpha version and the current stable release is 0.666 from 2010, is in my humble opinion the compression too, using an ARC compression method. Obviously it can't be the main archive program, because even if it uses the 7zip technology to open archives, it is from 2010 (or 2012 if you feel like using an unstable alpha version). Like I said I used Winrar in the past to open files, but since winrar did not support ARC files, FreeArc was used only to create and open ARC files. It had the power to create SFX files and if you selected a bunch of files/folders you could add each of them with a simple click. Sadly it did not have support to split the archive into pieces. 7Zip is currently the best freeware, since it is still update and it can open a lot of different kind of archives. 7Zip's compress is amongst the best, even if not the top and if anything it is the best software from the big names. Other compression software use the 7zip engine because it can actually open so many different types of zip files (sadly not including ARC). Like FreeARC, you can create SFX files and unlike FreeARC it can split the compressed file to separate parts. Personally I use a tool that splits what I want to backup with FreeARC to smaller folders, so I do not have a problem, but 7Zip has it integrated, so that is a plus. Sadly unlike FreeArc you can't select a bunch of files/folders and add each one to a separate folder. **Peazip can do it all!** Obviously it can compress on both 7z and Arc formats and with a handful of other ones (BZ2, GZ, *PAQ, PEA, QUAD/BALZ, TAR, UPX, WIM, ZIP), for people that need more. ------------------------------------------------------------------------------------------------ Here is a comparison from a test I did with some data folders. Remember, compressing media files ends up with results being almost identical, this is why I chose data files. Normal Files - 1060MB Program---Type--Compression-----Size-- Winrar------RAR----BEST------------405MB Winrar------RAR5--BEST(64MB)--389MB 7Zip---------7Z------ULTRA-----------344MB Peazip------7Z------ULTRA-----------343MB FreeARC--ARC----ULTRA-----------320MB Peazip-----ARC----9(MAX)-----------327MB Peazip-----ARC----Custom-----------320MB (Sorry if it looks a bit unaligned) I used in all the default options for the best compression, with only difference in Winrar RAR5 changing Dictionary Size from 32MB to 64MB, so it can match the Ultra of 7zip that uses 64MB dictionary size too. As you can see winrar is not close to the other two, even with it's new method of compression. 7zip and peazip seem to be the same, with peazip a bit better. I can assure you though mostly it is 7zip that is better than peazip, but usually for a couple MBs, even in huge files, so in other words, both are the same. FreeARC is still the best, but that is because the ULTRA of Peazip runs in the background what is considered for FreeARC "Best". That makes the compression of Peazip quite faster with a bit of larger size, but nothing though that important. There is a manual way of changing the commands Peazip runs, making it run the ULTRA command of FreeARC, but that is something that needs to be done every time manually, which I doubt people will want to. I run the command myself and you can see the result is exactly the same as FreeArc. All in all as you can see Peazip handles itself quite well compared to the best compression tools I know and the differences are small. That means that when you have something huge (not videos or pictures) you can compress it with ARC if you want or if you want something widely used, you can go with 7Z. ------------------------------------------------------------------------------------------------ **It uses the newest 7zip technology to open files**, so that means that it will be able to open any type of archive without a problem.. even "RAR5" files. From tests I did with compressing some things, RAR5 is not that great of a compression to even be compared with Arc and 7z, so I can't really care. **RAR5 is NOT RAR.** It is a new compression method from Winrar that was supposed to only be opened by Winrar and supposedly boasted great compression, which I have not seen. Thankfully 7z technology made it possible to not have to worry for even RAR5 files. **It can create SFX files with either of these formats.** For whoever does not know what an SFX file is, it is a self extracting file, that you can use on any computer even if it does not has a compression tool and you will be able to extract the file. **It can convert between different archive formats!** I already used this feature to convert a large amount of rar and zip archives of images I had I had to 7z. 7Z and ARC have the same performance on png pictures (on JPG all formats feel the same) so I chose 7Z since image readers support 7Z and I do not have to extract them. It took a long while, but I was not there to see. I simply threw them all in the converter window, hit the convert button and left. Remember to choose to delete archives in the choices, so you will not have to navigate through every folder and delete the old archives~ **You can select a bunch of files and put every file in it's own archive file**, be it a Arc or even 7z file, something that the 7zip does not have as an option. **You can create 7z split archives**, so that means it can even do that and create a multipart archive if that is what you wish for. It can't do it with Arc, but that is due to Arc's nature. **You can split files with it!** I do not mean compress and split, but just split. For anyone that know what is a file splitter, you probably needed it for an older computer with FAT32 system. Well Peazip offers that. For the rest that do not know what I am talking about, ignore this~ **It has nice good looking archive file icons!** Of course I guess some people call less if the icons looks nice or bad, but I am glad it has nice large and good looking icons with a large indication showing what kind of archive file it is. **It rid itself of the malware/opencandy it had in the past!** Indeed like some people mention on reviews, Peazip had first malwarish opencandy, meaning intrusive programs installing themselves in your pc without you knowing or wanting it and later on switched to normal advertisement software, that the program asks you if you want them installed, but does not does anything stealthily if you say no to it. People still complained then, but it is free software, so it can make it's money as it wants. I personally only hate these things when they happen without the user knowing it, not when the user click fast through the installation without reading what he clicks to. **Offers a 64bit version**, which is something that slowly should be becoming the norm, considering most computers nowadays , even older ones, have at least 4GB ram and the windows are 64bit. Personally I have seen some laptops that have 3GB and 64bit Windows, probably to give the buyer the option to upgrade the ram, since having 32 bit would render him unable to do so. I am not sure if I was missed anything, considering I can only review this from my experience, but I am 100% suggesting Peazip if you want an all in one compression tool for your PC. I have experienced some rare crashes (with the 64bit version which is more unstable) with it on heavy load, but it is definitely has come a long way and now that it is clean it is worth the try.