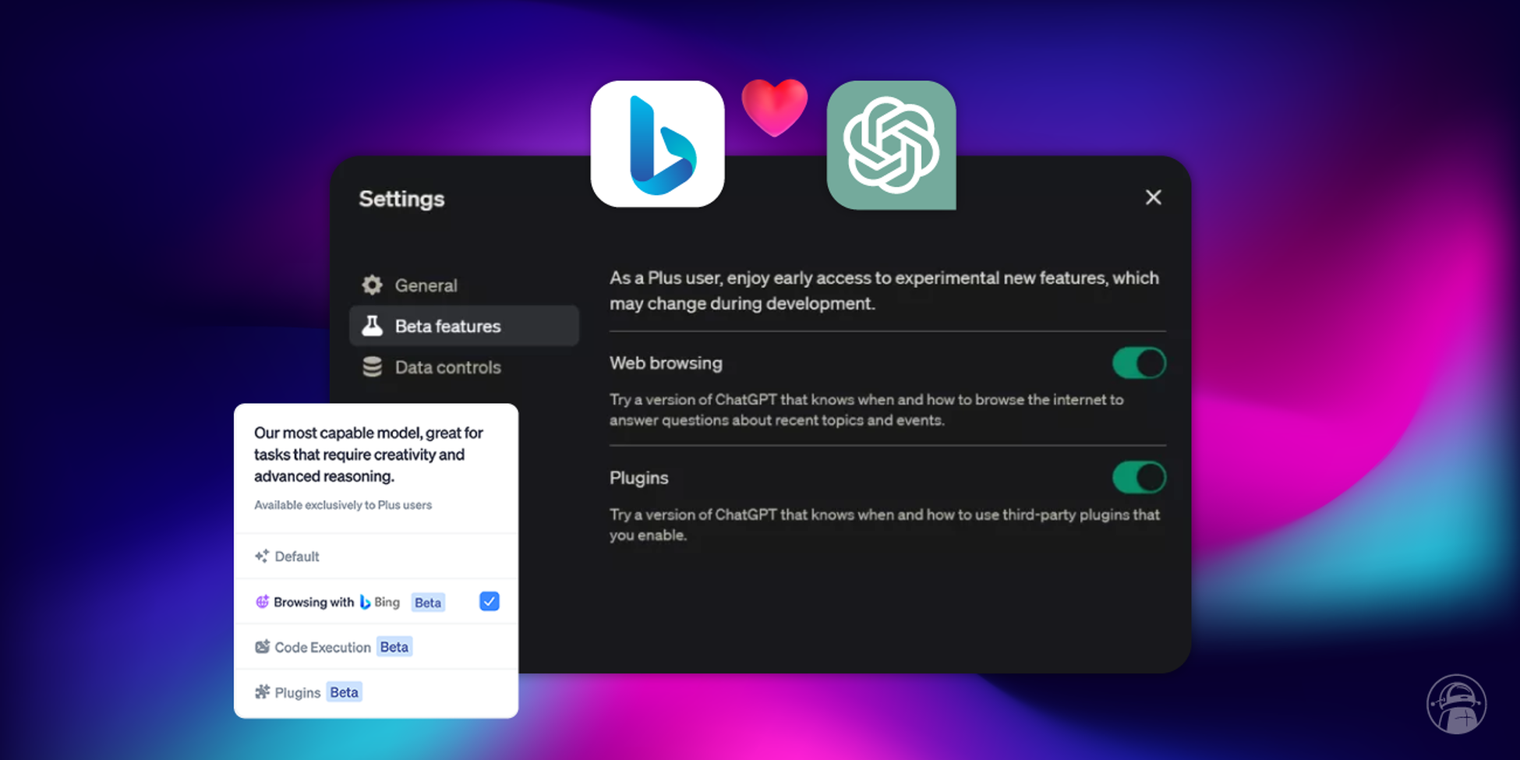 at 9:55 PM
OpenAI and Microsoft partner to integrate Bing Search Engine into ChatGPT language model
OpenAI and Microsoft have recently announced a groundbreaking partnership, making Microsoft Bing the default search engine for ChatGPT, OpenAI's popular language model. Just a couple of days ago we reported that ChatGPT officially introduced plugins to its platform, and among these changes was also Web Browsing, which will be powered by Bing Search according to Microsoft. This collaboration marks a significant milestone in the integration of AI technology and web browsing capabilities. With Bing's integration, ChatGPT will now be able to provide timely and up-to-date answers by accessing information directly from the web.
Initially, the new search functionality will be available to ChatGPT Plus users (their paid subscription option), giving them an exclusive opportunity to experience the enhanced capabilities. However, OpenAI has plans to extend this feature to free users as well through a ChatGPT plug-in. This move ensures that a wider audience can benefit from the integration, further blurring the lines between OpenAI and Microsoft chatbots.
The integration of Bing into ChatGPT is made possible by the powerful GPT-4 language model developed by OpenAI. Just like ChatGPT's chat experience, Bing's chat functionality will also include citations to relevant links, providing users with additional information sources. Microsoft's partnership with OpenAI has proven to be instrumental in the progress of the new Bing search engine, particularly in light of Samsung's decision to stick with Google instead of adopting Bing Search, as we had shared that it was being considered a while ago.
To reinforce their collaboration, Microsoft has extended its partnership with OpenAI through a multibillion-dollar investment. This investment highlights the shared vision of both companies in pushing the boundaries of AI technology. Furthermore, Microsoft's Copilot platform and Bing Chat will also adopt the same open plug-in standard used by ChatGPT, ensuring interoperability among these platforms. With the integration of Bing, ChatGPT now boasts a world-class search engine built-in, significantly expanding its capabilities. The partnership between OpenAI and Microsoft was highlighted at Build 2023, emphasizing the importance of this collaboration in shaping the future of AI-driven chatbots. Both Bing Chat and ChatGPT offer overlapping features and share a plugin ecosystem, further demonstrating the close partnership between the two companies.
However, opinions among users regarding the integration of Bing vary. While some users favor the integration and appreciate the real-time information from the web, others hold differing opinions. OpenAI acknowledges these diverse preferences and has made the Bing integration available as an optional feature (at least for now, but I wouldn't be so sure that this will always be the case, considering how pushy Microsoft has been lately with the adoption of their services, trying to force users to use them by default).
It will be interesting to see how this collaboration between two of the current giants in the field of AI-driven chatbots and language models in general develops and continues to grow. With the recent Google Bard release and rolling out to over 180 countries, Microsoft is going to need all the help it can get if they want to finally make this the chance for Bing to truly become a real and popular alternative to Google Search.
Did you find this interesting? 
Yes
No
Read More
Related news
ChatGPT on AlternativeTo
ChatGPT
  165
ChatGPT is a fantastic AI writing tool that has 121 alternatives on AlternativeTo. It has an average rating of 4.5, and the top features include AI writing, AI-powered, and AI-enabled chatbots. Some of the top alternatives to ChatGPT are DeepL Write, Marmof, and Perplexity AI. If you're looking for a powerful AI writing tool, ChatGPT is definitely worth checking out.
Comments on 'OpenAI and Microsoft partner to integrate Bing Search Engine into ChatGPT language model'
No comments so far, maybe you want to be first?