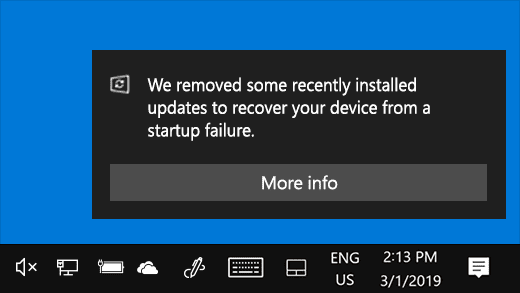 at 4:41 AM
Windows 10 will now uninstall updates that stop your computer from booting
Microsoft has revealed via a support article published on March 11th that its flagship Windows 10 operating system will uninstall any recently installed updates if it is unable to boot up on startup.
In terms of the kind of updates users can expect to be uninstalled if their device fails to boot up Windows 10, they include: • Device drivers • Hotfixes • Updated system files • Service packs • New Windows features
The faulty update will attempt to be installed 30 days after it's been uninstalled from any device that was unable to boot. According to the support page, this 30-day window will allow "Microsoft and [its] partners the opportunity to investigate the failure and fix any issues."
The support article also links to instructions on how to manually update drivers and how to download updates from the Windows Update catalog in the event that you believe a specific update should not have been removed in order to resolve your system's booting issue.
Further coverage: Microsoft Support ZDNet Ars Techinca Engadget gHacks Tech News
Comments
No comments so far, maybe you want to be first?

;