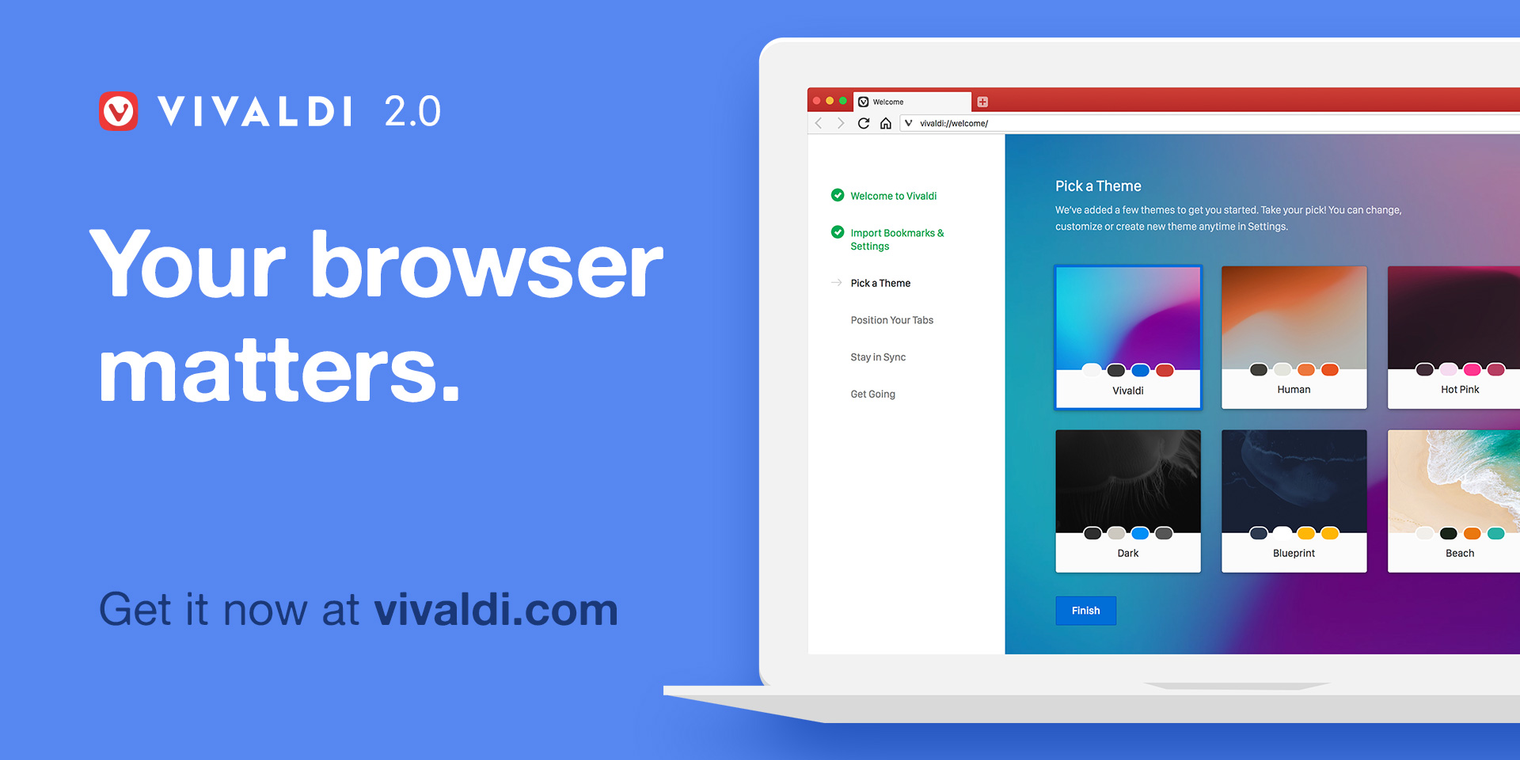 at 3:47 AM
Vivaldi releases version 2.0 of its web browser
Vivaldi, the spiritual successor to the Opera web browser founded by the co-founder of Opera and several of its key development staff, has released version 2.0 for Windows, macOS, and Linux.
Touting over 1,500 improvements, version 2.0 of the Vivaldi brings a complete redesign of the user interface alongside revamped customization options. This refresh also brings a revamped and modular dashboard that allows users to add or remove any shortcuts to browser features such as bookmarks and history.
New to this version is account-based browser synchronization in the form of Vivaldi Sync. This service is end-to-end encrypted, with none of the data ever being shared with the developers of Vivaldi. This privacy focus is also shown in Vivaldi's use of DuckDuckGo as the default search engine in its Private Window browsing mode, with support for Qwant and Startpage as well.
The browser's changelog lists the following major features alongside many new fixes in the upgrade from 1.15 to 2.0:
Implement Syncing of Bookmarks, settings, etc. VB-27
Add options to support for floating/overlay panels VB-18296
Make tiled tabs resizable VB-5064
List layout for Visual tab cycler VB-19167
Add predefined shortcuts for moving tabs left and right: Windows/Linux = "Ctrl+Shift+PgUp/PgDn"; macOS = "⌘+⇧+↑/↓" VB-41415
Tile new tabs in a tab stack VB-40851
Holding Command/Control opens new tab on history buttons VB-42075
Web panel suggestions with faviconsVB-42007
More Speed dial suggestions by using favicons VB-42244
New 2.0 Welcome Page VB-39395
Updated Default Themes for 2.0: Added "Vivaldi" as our new default theme, replaced "Redmond" with "Beach" VB-23107
Minimum active tab width setting VB-42587
Further reading: Vivaldi Browser blog
Comments
No comments so far, maybe you want to be first?

;