Advanced Uninstaller PRO
Advanced Uninstaller PRO quickly uninstalls any program you wish to remove from your computer.
Paid • Proprietary

Windows
What is Advanced Uninstaller PRO?
Advanced Uninstaller PRO is the ultimate uninstaller for Windows, allowing you to uninstall programs quickly and completely using its simple and intuitive interface.

No need to worry about stubborn programs ever again!

Advanced Uninstaller PRO features and the Installation Monitor keep track of all changes performed to your computer during software installations; this way you can later completely uninstall any program and make sure nothing is left behind. Advanced Uninstaller PRO is able to uninstall any program without a trace.

Advanced Uninstaller PRO can also remove a lot of items that other uninstallers can't even touch. It can repair broken registry entries, clean non-functional Start Menu shortcuts, uninstall annoying browser toolbars, plugins and hijackers, remove fonts and get rid of startup programs that run in your system tray and slow down your computer.

The program is especially designed to be very clear, fast, pleasant and intuitive. Easy to read information and help is readily available throughout the program, guiding you every step of the way.

Advanced Uninstaller PRO helps your PC run at its full speed by taking good care of the Windows registry and services. It also helps you free disk space by detecting and removing duplicate files and helping you turn on the Windows file compression if needed.

The program can delete the web browsing and document opening history in many applications, so you can surf the Internet and open images, videos and any other file without worry. It can also defend your right to privacy by shredding the files and folders you choose in such a way that they won't ever be recovered. Internet Explorer 8, Mozilla Firefox 3 and Google Chrome are now fully supported.

With Advanced Uninstaller PRO, you have all the tools you need to uninstall programs, speed up and fix your PC, protect your privacy, remove lots of annoying plugins, toolbars and browser hijackers that other cleaning tools don't detect and remove.
Features
Vote on or suggest new features
Comments and Reviews
Post a comment / review
all
 • 
positive
 • 
negative
relevance
 • 
date
Categories
OS & Utilities •
File Management
Tags
service-manager

registry-cleaner

startup-manager

traces

registry-scan

app-rating

registry-compare

drivers
List containing Advanced Uninstaller PRO
Windows Apps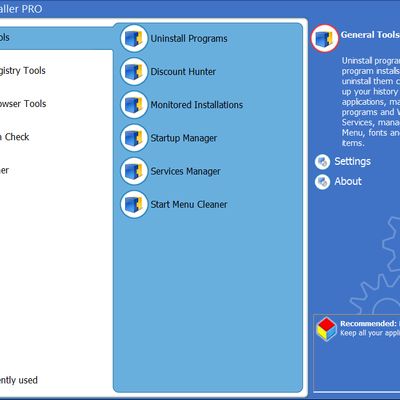 Advanced Uninstaller PRO videos
Advanced Uninstaller PRO
Links and Download
Social
Advanced Uninstaller PRO
Summary
Our users have written 2 comments and reviews about Advanced Uninstaller PRO, and it has gotten 13 likes
Developed by Innovative Solutions
Proprietary and Commercial product.

One time purchase (perpetual license)

Average rating of 5
37 alternatives listed
Popular alternatives
View all
Advanced Uninstaller PRO was added to AlternativeTo by
l3x0r
on Mar 29, 2010 and this page was last updated Oct 6, 2021. Advanced Uninstaller PRO is sometimes referred to as Advanced Uninstaller.
Recent user activities on Advanced Uninstaller PRO