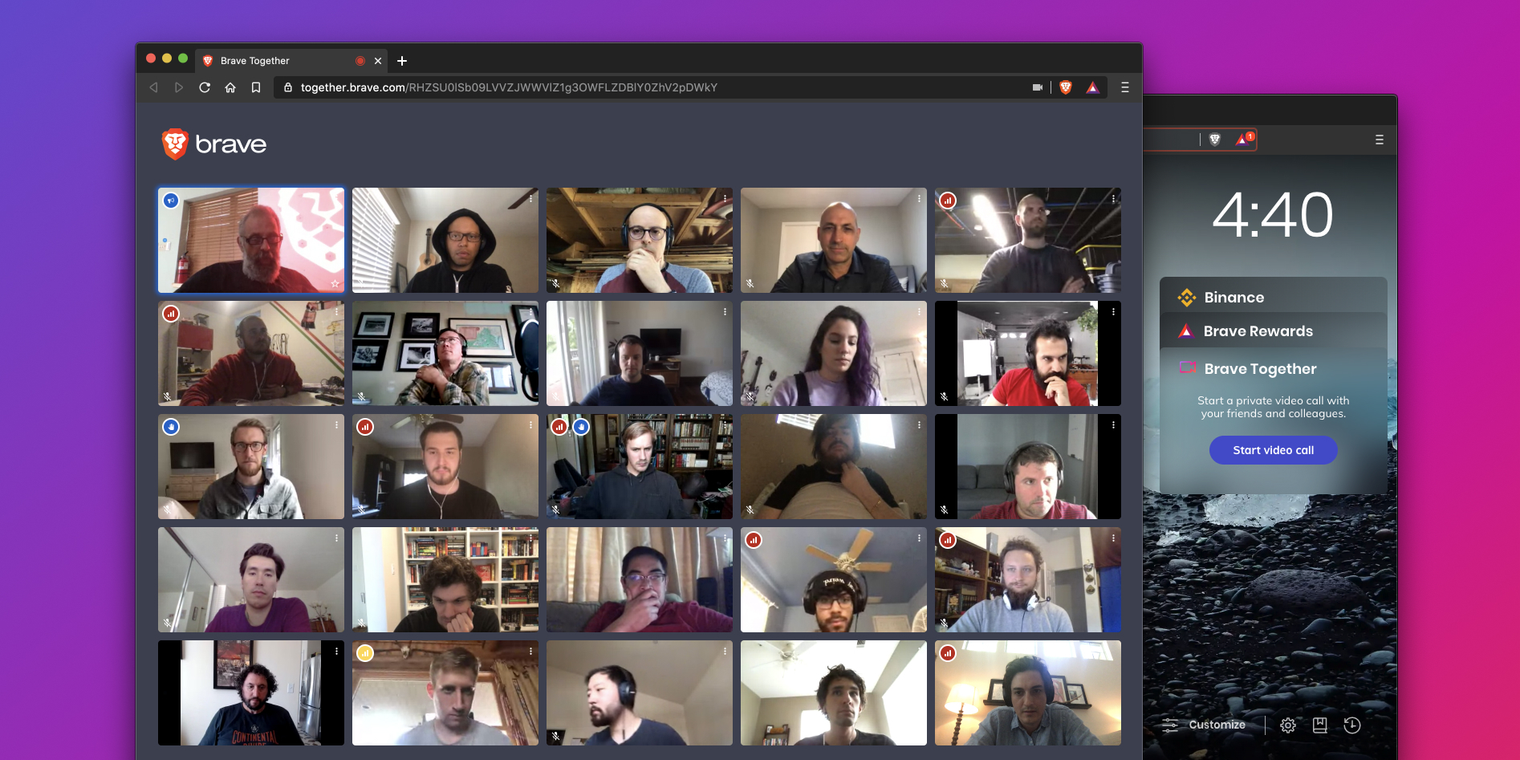 at 1:37 PM
Brave launches Together, its free and private Jitsi-powered video call service
In another move to increase the Brave web browser's mindshare, the eponymous company has announced that its nightly builds now include a new video chatting service called "Brave Together".
Detailed in an official post on the Brave Community forums, Brave Together is a video calling service that is powered by the open source Jitsi Desktop chat solution, with Brave promising that Together is and will always be "private and unlimited."
In addition to the typical ease of use features that have been implemented in video chat services as of late (easy to invite URLs for rooms, password protection to prevent unauthorized access), Brave Together also supports the following features as of this writing:
• Screen sharing • Moderation options (muting everyone or individual users) • Synchronized YouTube video sharing • Keyboard shortcuts for chat control • Variable video quality settings • Initial room settings (for example, "everyone starts muted") • Option to raise/lower hand for more organized or formal discussions
The Brave Community post mentions that any issues with the video conferencing software should be directed to Jitsi directly, where as site unavailability or rendering problems should be posted about on the Brave Together category of the forums.
Once you've downloaded and installed the Brave web browser, Brave Together can be accessed via together.brave.com. Though stated as only being available in North America at the moment, the service is currently functioning in other regions as well.
Did you find this interesting? 
Yes
No
Related news
Brave on AlternativeTo
Brave
  845
Mac

Windows

Linux

Android

iPhone

Android Tablet

iPad

Homebrew

Chocolatey

Flathub

Snapcraft
Brave Web Browser is a fast, free, secure web browser with a built-in ad blocker*, tracking and security protection, and optimized data and battery experience.
Comments on 'Brave launches Together, its free and private Jitsi-powered video call service'
No comments so far, maybe you want to be first?