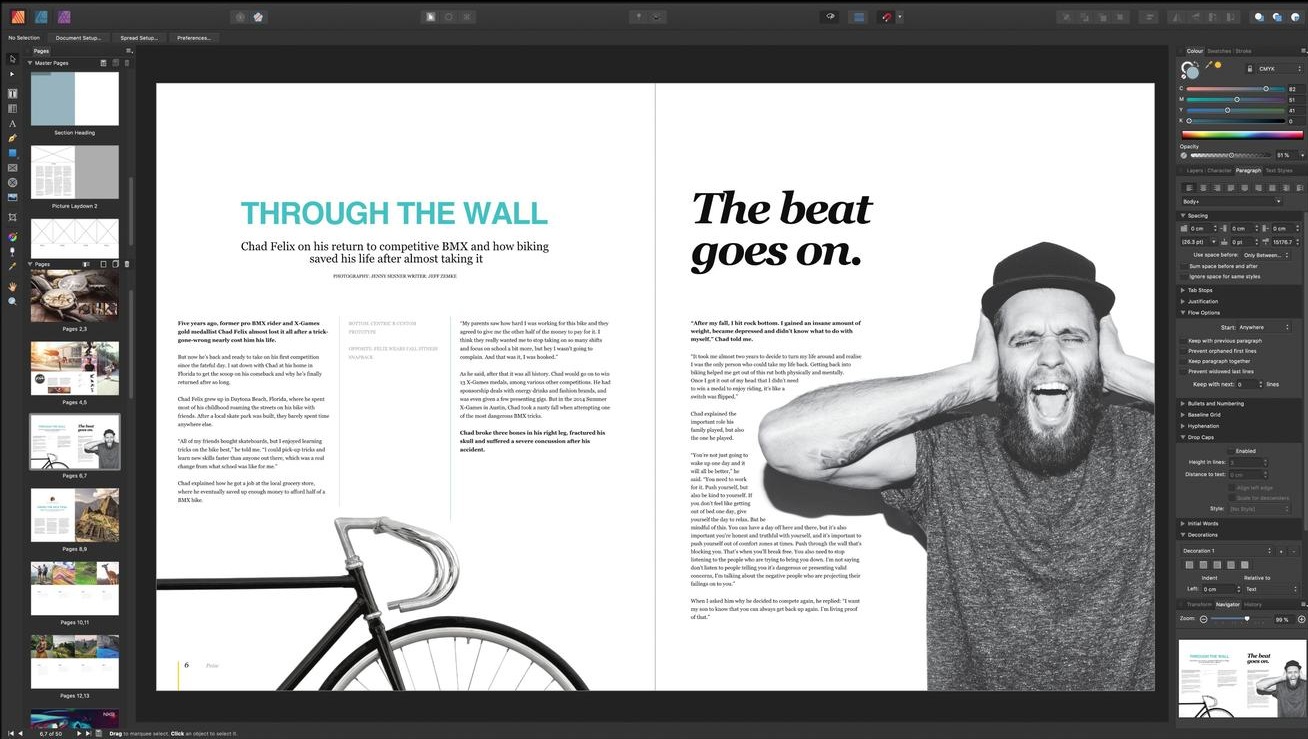 at 2:37 PM
Affinity Publisher has launched on macOS and Windows
Affinity Publisher, which includes Affinity Designer and Affinity Photo, has officially launched on both macOS and Windows 10.
The development team behind the Affinity software range, Serif, describes what makes this integration possible via what it calls StudioLink technology:
"In a world-first, Serif's brand new StudioLink technology means owners of its vector design app Affinity Designer and image editor Affinity Photo can use them right there in an Affinity Publisher layout, simply by clicking the relevant product icon."
This in-app switching should streamline workflow for those that already own licenses for Affinity Designer and Affinity Photo. Affinity Publisher is compatible with the following file types:
• PSD • AI • PDF • JPG • TIFF • PNG • Affinity
In addition to this, Serif lists the following as key features of Affinity Publisher:
• OpenType support and glyph browser • Text decorations and drop capitals • Linked text frames with advanced flow options • Text wrapping with fine padding control • Artistic text including text on a path • Baseline grid and text frame rulers • Place PSD, AI, PDF, JPG, TIFF, PNG or Affinity files • Correct and enhance images with non-destructive adjustment layers • Smooth gradient and transparency controls • Auto generated indexes and table of contents • RegEx search and replace • Customizable keyboard shortcuts • Saveable undo history • Smooth pan and zoom at 60fps • End-to-end CMYK and spot color support • PDF/X-1a, PDF/X-3, PDF/X-4 output for professional print
Serif concluded its newsroom post by announcing that Affinity Publisher will also be coming to iPad "later," though the company has made the iPad apps for Affinity Designer and Affinity Photo compatible with Affinity Publisher documents in the meantime.
Further coverage: 9to5Mac Affinity Press Newsroom
Comments
No comments so far, maybe you want to be first?