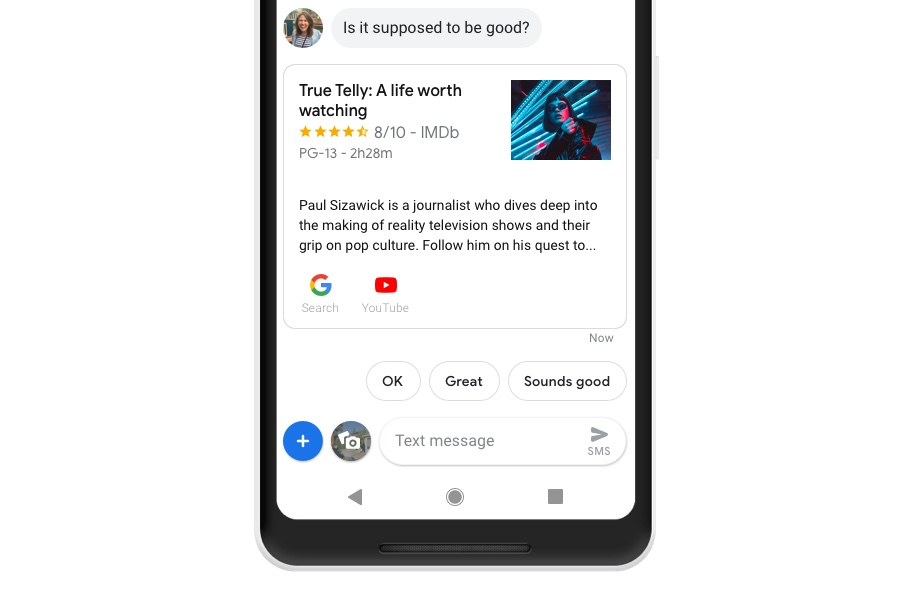 at 3:56 PM
Google Assistant coming to Android Messages, expanding multilanguage support
Google is expanding its personal assistant software to its stock Android messaging software and with support for more language pairings.
Google Assistant, the search engine giant's answer to digital assistant solutions such as Siri, Amazon Alexa, and Cortana, will soon be available to use in Google Messages. By long pressing the Home button with the Messages app open on your phone, you can use Assistant to aid in looking things up quickly. In addition to this, the phone-based AI will scan your messages for topics brought up including movies, restaurants, and the weather.
Google Allo may recognize these Messages features, especially the AI-driven suggestions, as they were a feature of the soon-to-be-shut-down messaging service.
In addition to this, more languages will now support bilingual use, allowing users to switch between any pair of the following 12 languages:
Danish
Dutch
English
French
German
Hindi
Italian
Japanese
Korean
Norwegian
Spanish
Swedish
According to the official blog post covering these announcements, Google Assistant's rollout to Android Messages is set to happen "over the coming months for English users around the globe," with support for more languages in the app not given a time table.
Further coverage: Google Blog 9to5Google (1 | 2) Engadget The Verge (1 | 2) VentureBeat
Did you find this interesting? 
Yes
No
Comments
No comments so far, maybe you want to be first?
Related news
Google Assistant on AlternativeTo

Google Assistant
  30
Android

iPhone

Android Tablet

iPad

Android Wear

KaiOS
Google Assistant is a virtual assistant software application developed by Google that is primarily available on mobile and home automation devices. Based on artificial intelligence, Google Assistant can engage in two-way conversations, unlike the company's previous virtual...