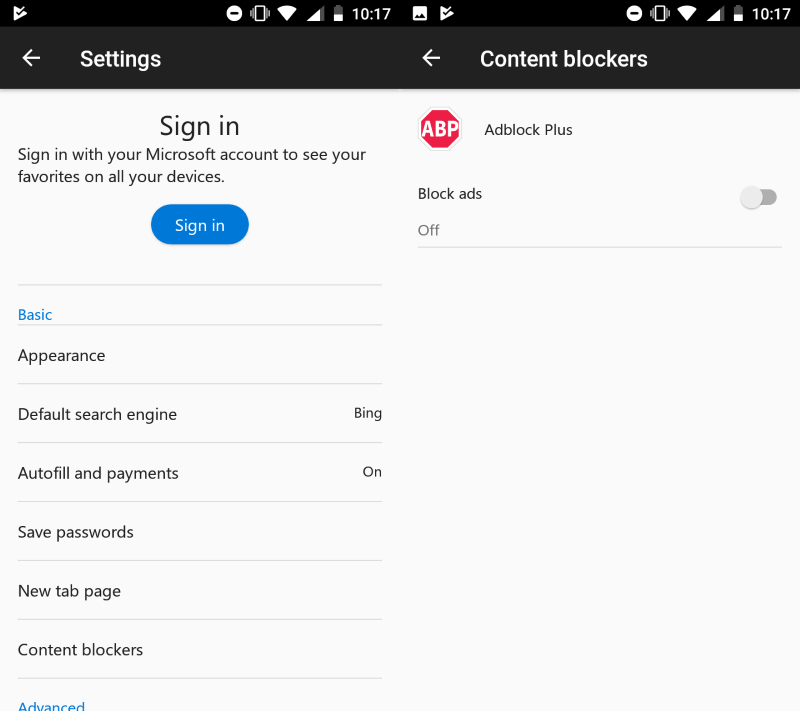 at 4:29 PM
Microsoft adding built-in Adblock Plus to Edge web browser on Android and iOS
Mobile web browsers may not be what Microsoft is known for, but the company is releasing an update to the mobile version of its Edge browser that enables ad blocking functionality by default.
For beta testers, version 42 of the Android and iOS versions of the Microsoft Edge web browser now have built-in support for the Adblock Plus content blocker.
As reported by Tom Warren at The Verge, this Adblock Plus integration is a much more encompassing ad blocking solution in comparison to the Android version of Google Chrome's built-in ad blocker. It's also active on both non-private and private browsing sessions, unlike the Android release of Mozilla Firefox.
Did you find this interesting? 
Yes
No
Related news
Microsoft Edge on AlternativeTo
Microsoft Edge
  282
Mac

Windows

Linux

Android

iPhone

Android Tablet

iPad
Rebuilt from the ground up using https://alternativeto.net/software/chromium/, the new Microsoft Edge brings you world-class compatibility and performance, the security and privacy you deserve, and new features designed to bring you the best of the web.
Comments on 'Microsoft adding built-in Adblock Plus to Edge web browser on Android and iOS'
No comments so far, maybe you want to be first?