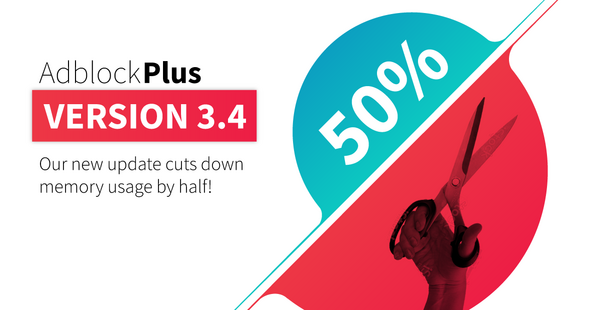 at 8:23 PM
Version 3.4 of Adblock Plus has released, cuts down its memory usage by 50%
eyeo GmbH has released the latest version of Adblock Plus, 3.4. This release includes a refresh to the user interface and an average 50% reduction in system memory usage.
The new UI removes the social media icons that could be clicked to visit Adblock Plus's social media pages, as well as the total number of ads blocked in total. It adds a list of blocked items on any given webpage versus the page's total number of items, and also gives a simple toggle for disabling ad blocking on a per-site basis.
According to a test by Martin Brinkmann of gHacks, however, Adblock Plus still uses more system memory than uBlock Origin even after being updated to version 3.4.
Adblock Plus 3.4 is available on Google Chrome, Mozilla Firefox, and Opera, but not yet on Internet Explorer, Microsoft Edge, or Safari.
Further coverage: Adblock Plus blog gHacks Tech News VentureBeat
Did you find this interesting? 
Yes
No
Adblock Plus on AlternativeTo

Adblock Plus
  1733
iPhone

Chrome OS

iPad

Microsoft Edge

Internet Explorer

Vivaldi Browser

Google Chrome

Safari

Yandex.Browser

Opera

Firefox
Adblock Plus is a free extension that allows you to - among other things - block annoying ads, disable tracking and block domains known to spread malware.
Comments on 'Version 3.4 of Adblock Plus has released, cuts down its memory usage by 50%'
No comments so far, maybe you want to be first?