NetSurf
NetSurf is a free, open source web browser. It is written in C and released under the GNU Public Licence version 2. NetSurf has its own layout and rendering engine entir...
Mac

Windows

Linux

BSD

Haiku

AmigaOS

Xfce
What is NetSurf?
Small, fast and free.
Whether you want to check your webmail, read the news or post to discussion forums, NetSurf is your lightweight gateway to the world wide web.
Features
Web standards: HTML 4.01 and CSS 2.1 Image formats: PNG, GIF, JPEG, SVG, and BMP HTTPS for secure online transactions Unicode text Web page thumbnailing Local history trees Global history Hotlist manager (bookmarks) Cookie manager URL completion Text selection Scale view Search-as-you-type text search highlighting Save pages complete with images Fast, lightweight layout and rendering engine
RISC OS only
Image formats: Sprite, Drawfile and ArtWorks Drawfile export
Written in C, features its own layout engine. Why choose NetSurf?
Speed Efficiency lies at the heart of the NetSurf engine, allowing it to outwit the heavyweights of the web browser world. The NetSurf team continue to squeeze more speed out of their code. Interface innovation Simple to use and easy to grasp. Lean requirements From a modern monster PC to a humble 30MHz ARM 6 computer with 16MB of RAM, surfing the web whatever your system. Originally written for computer hardware normally found in PDAs, cable TV boxes, mobile phones and other hand-held gadgets, NetSurf is compact and low maintenance by design. Portable NetSurf can be built for a number of modern computer platforms 'out of the box'. Written in C, with portability in mind, NetSurf is developed by programmers from a wide range of computing backgrounds, ensuring it remains available for as many users as possible. Standards compliant Despite a myriad of standards to support, NetSurf is striving for complete standards compliancy. NetSurf aims to stay abreast of new and upcoming web technologies.
See the project goals and progress page for further information on where NetSurf is headed.
NetSurf Screenshots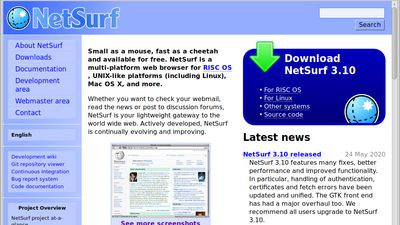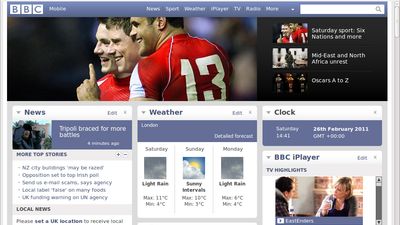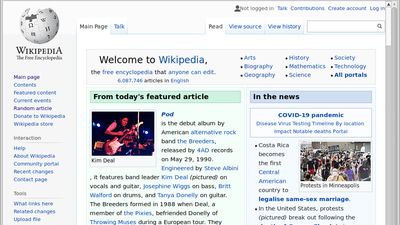 Comments and Reviews
Recent user activities on NetSurf
Palets

added NetSurf as alternative(s) to Cachy-Browser

RemovedUser

added NetSurf as alternative(s) to CyberGhost Private Browser

Danilo_Venom

added NetSurf as alternative(s) to Samsung Internet