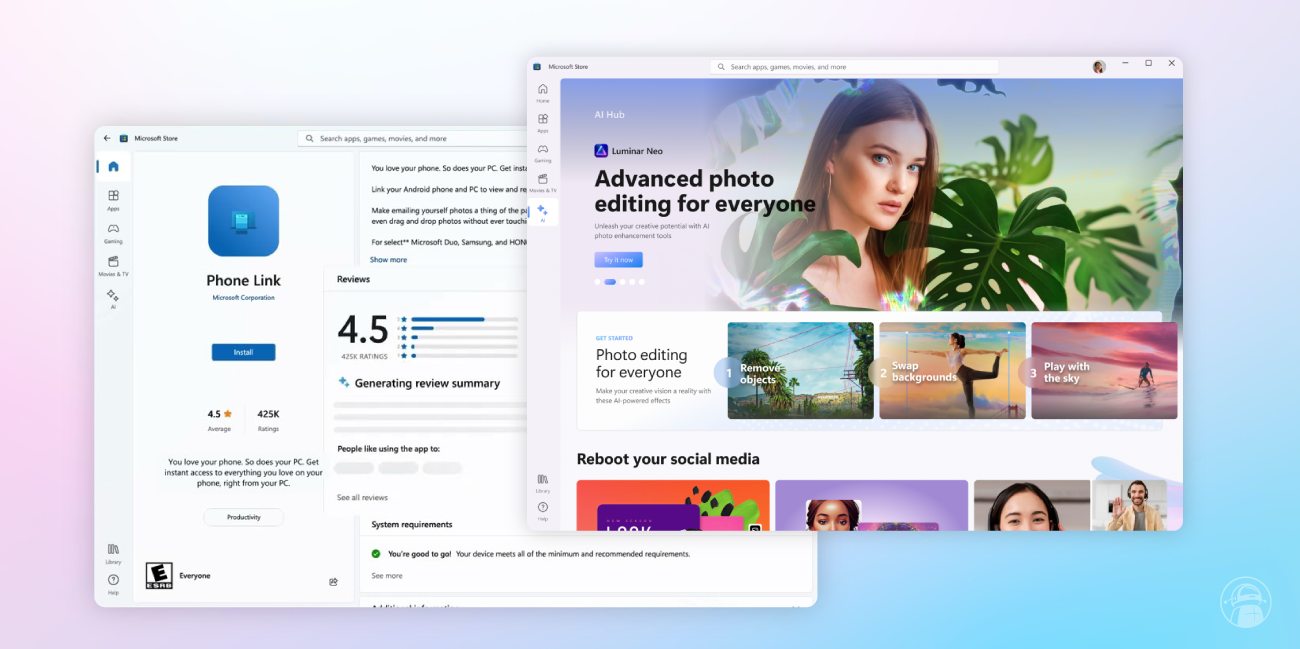 at 12:01 AM
Microsoft introduces an AI Hub and AI-Generated review summaries in the Microsoft Store
Microsoft is taking a step forward in enhancing the user experience of its app marketplace, the Microsoft Store, by introducing AI-generated review summaries. These summaries, accompanying the traditional star rating system, aim to provide users with concise synopses of app reviews. By offering a quick overview of app feedback, Microsoft hopes to empower customers to make informed decisions about the apps they choose to download and use.
While Microsoft has not disclosed the specifics of the vetting process or the safeguards against potential abuse or review manipulation, the company plans to gather valuable feedback from the developer community during the preview phase of this new feature. This collaborative approach will help Microsoft refine and optimize the review summaries to ensure they deliver accurate and helpful information to users. To further emphasize its commitment to creating a safe and inclusive environment, Microsoft has referred developers and users to its rating and reviews policies, which address offensive content.
Additionally, the company is introducing an AI Hub in the Microsoft Store, where customers can explore a curated collection of apps that utilize AI technology. This new feature will enable users to discover innovative AI-powered creativity and productivity tools, expanding their options for personalized and efficient app experiences.
Moreover, Microsoft is empowering developers to improve the visibility of their apps with a new developer tool in the Microsoft Partner Center. Through the use of AI, this tool suggests search tags based on metadata and other signals, enhancing app discoverability in search results. By implementing these advancements, Microsoft aims to create a more robust and efficient app ecosystem that benefits both developers and users.
In other updates, Microsoft is expanding the reach of Microsoft Store Ads beyond the United States. These ads will now appear in Bing search results, enabling developers to promote their apps to a wider audience. Video ads will be added to the spotlight section, further enhancing app visibility and engagement.
Finally, Microsoft has made important updates to its backup and restore systems to ensure seamless transitions for Microsoft Store apps during Windows upgrades or when switching computers. These updates ensure that apps retain their position in the taskbar and Start menu, offering users a consistent and convenient experience across devices.
Did you find this interesting? 
Yes
No
Read More
Related news
Microsoft Store on AlternativeTo
Microsoft Store
  16
Windows

Windows S

Windows Phone
A world of apps in the Microsoft Store.
Apps make using your PC easier by opening up new ways for you to get things done and have some fun. Windows 8.1 and Windows RT 8.1 come with built-in apps that help you socialize, stay in touch, share and view documents, organize photos, l.
Comments on 'Microsoft introduces an AI Hub and AI-Generated review summaries in the Microsoft Store'
No comments so far, maybe you want to be first?