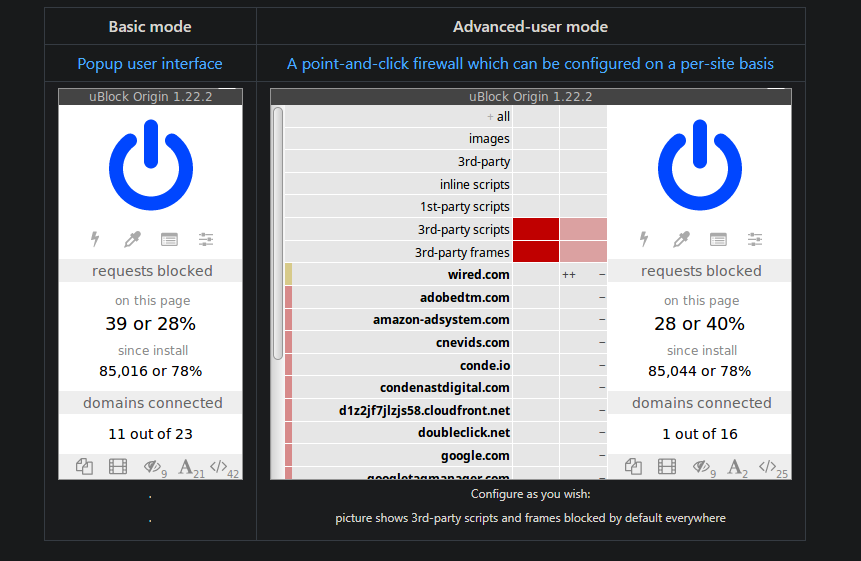 at 10:04 PM
uBlock Origin will not work on Safari as of macOS Catalina, may soon not work with Chrome
Popular open source content blocking solution uBlock Origin will soon no longer work for Safari users that update to the newest version of macOS. Also, it may soon no longer work for anyone who uses Google Chrome, the world's most popular web browser.
In an update posted to the uBlock Origin Safari GitHub page, contributor p4t44 explains and cites that the old extension system that Apple utilized for Safari will no longer be functional as of macOS version 10.15 Catalina. Because uBlock Origin for Safari requires this legacy extension API to function, coupled with the fact that development on the Safari version has completely ceased as of 2018, this means that the content filtering extension that many users utilize for ad blocking will no longer operate as of version 13 of Safari that's included with macOS Catalina.
In addition to no longer being supported on Safari, uBlock Origin will also no longer function on Google Chrome if version 3 of the browser's extension manifest is implemented in its current form. In a post on the Chromium issue tracker by uBlock Origin developer Raymond Hill, it is cited that key portions of apps like and including uBlock Origin will no longer operate due to version 3 of the extension manifest's different declarativeNetRequest API. Though no formal rollout schedule has been established, if it is decided to implement this version of the extension manifest as is, uBlock Origin's days on Chrome will come to an end.
For people that use uBlock Origin for its low system resource use and convenience, alternatives such as Adblock Plus, AdGuard, and several others will come with caveats such as increased system use, increased complexity, or decreased efficacy. If these alternatives or compromises aren't suitable to your needs, uBlock Origin will continue to function on Mozilla Firefox for both desktop and mobile operating systems.
macOS Catalina, along with the end of compatibility for uBlock Origin in Safari, is coming next month.
Comments
No comments so far, maybe you want to be first?

;