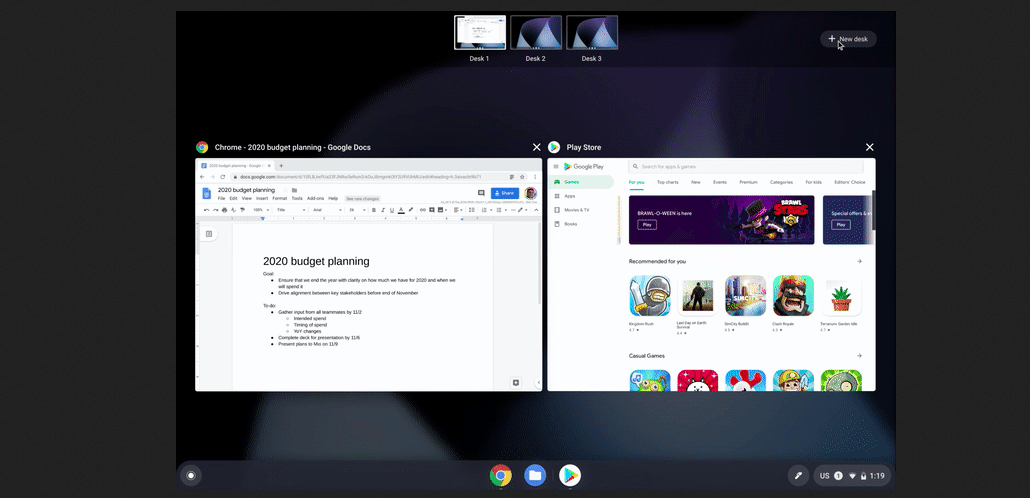 at 12:02 AM
ChromeOS 78 features virtual desktop support, automatic printer listing, and more
As detailed on the official Google blog, this month's release of Chrome OS implements support for virtual desktops, an often requested feature.
Though Google is calling its Chrome OS implementation Virtual Desks, the virtual desktop feature works in a similar way to Linux kernel powered operating systems. It allows for you to create separate "virtual" desktops to separate different work projects, productivity from relaxation, or any other division of applications you see fit. This feature aims to improve productivity and separation of work and play.
In addition to Virtual Desks, Google Chrome OS 78 also features "click-to-call" functionality that enables you to right click a phone number while browsing the Internet on your Chromebook and send it to your Android smart device instantly. This feature requires that you're signed in to your Google Account on both your Android smart device and your Chromebook, as well as have syncing enabled on your Google Chrome browser.
Support for printers has also been greatly improved and simplified. Printers compatible with your Chromebook will automatically show up in your Chrome OS printer list with no setup needed. A specific printer can now be saved as your default by going to Settings -> Printers. Another small feature implemented in this release is a simplified way of submitting feedback. If you hold your power button for a second, a new feedback button will be available alongside the previously available power off, sign out, and lock buttons.
Chrome OS 78 is available now, with its official site available at google.com/chromebook/chrome-os/
Further coverage: Google Blog
Comments
No comments so far, maybe you want to be first?