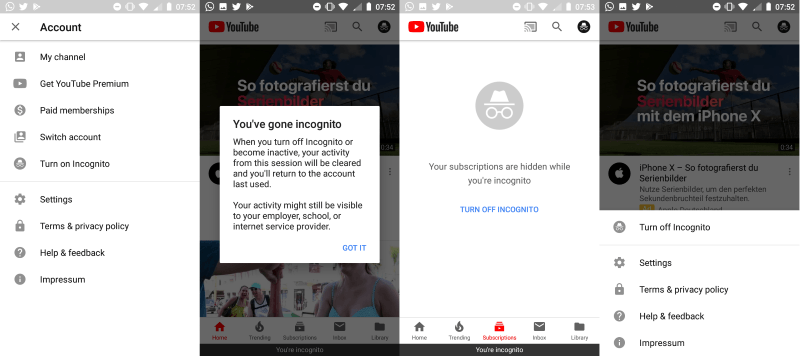 at 11:31 PM
YouTube adds Incognito Mode for Android app, but makes it impossible to sign out
Fans of private browsing functionality in web browsers will find a very welcome addition to YouTube on Android devices.
In its latest update, the Android app for YouTube has implemented built-in Incognito Mode to users that have a Google account signed into the video sharing network. This private browsing mode shares its name and characteristics with Google Chrome's: local browsing history and data will not impact any part of your Google account or the app's video suggestion algorithm.
However, as noted by Martin Brinkmann at gHacks, the "Sign Out" option on the Android app has been replaced with a "Turn on Incognito" option for users that have already signed in. There is seemingly no place to sign out of accounts on the Android YouTube app as of this latest release. However, it is still possible to switch between signed in accounts, as well as sign in to additional accounts.
As with Google Chrome's Incognito Mode, this does not mask the data being sent and received from your Internet service provider, so that is a factor to consider when deciding why to use this feature.
Did you find this interesting? 
Yes
No
Comments
No comments so far, maybe you want to be first?
Related news
YouTube on AlternativeTo
YouTube
  1531
Online

Android

iPhone

Blackberry

Chrome OS

Android Tablet

iPad

Apple TV

KaiOS

Fire TV

Nintendo Switch

Xbox
YouTube is a video-sharing website, the site allows users to upload, view, and share videos.