Garmin BaseCamp
What is Garmin BaseCamp?
Garmin® BaseCamp® provides an interface for viewing Garmin map products and managing geographic data. With BaseCamp, you can perform the following tasks:
• Transfer data to and from your Garmin device. • Create, view, edit, and organize waypoints, routes, and tracks. • Find places, such as addresses, points of interest, and public land survey areas included in your detailed map data. • View map data in 2D and 3D. • View topographical information included in your detailed map data. • Geotag photos with geographical location information. • Print detailed topographical maps, PLS quads, and multi-page poster maps. • Download and view BirdsEye™ satellite imagery and topographic raster maps. • Import and view Garmin Custom Maps. • Create, share and download Garmin Adventures (http://adventures.garmin.com)
Garmin BaseCamp Screenshots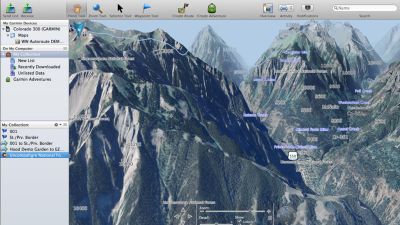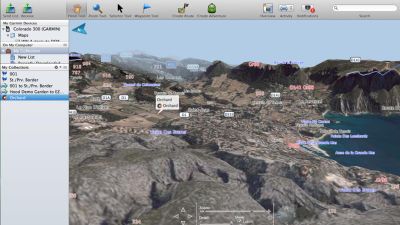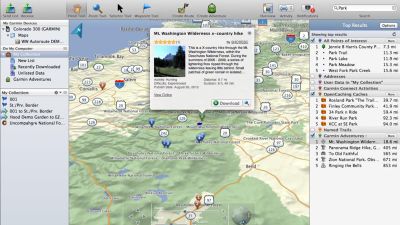 Garmin BaseCamp Features
Garmin BaseCamp information
Developed by

Garmin

Licensing

Proprietary and Free product.

Rating

Average rating of 2

Alternatives

14 alternatives listed
Comments and Reviews
Recent user activities on Garmin BaseCamp
costanza6221

added Garmin BaseCamp as alternative(s) to Golden Cheetah

zetneteork

reviewed Garmin BaseCamp

I've been using the BaseCamp for a while, but the user experience with custom planning routes is not what I would expect. The good feature is to import all routes from a device. I am using Tyre as an alternative to this app.

zetneteork

Upvoted a comment on Garmin BaseCamp

So Garmin have a rep for not-quite-finishing the s/w that supports their devices - to be fair not unexpected in the fast development of GPS and sports/fitness trackers etc. BUT I am fed up with Basecamp's bizarre logical approach to things - which differs utterly to the satnav device I currently use (two different departments??). In fact for most trips, even complex ones, its usually easier and better to use the device and not even bother turning on the PC. For instance my medium-price device can optimise a route after finding and selecting several waypoints. But Basecamp bizarrely wants to calculate a route in ALPHABETICAL ORDER before you can optimise it... The device and Basecamp are both full of old files I have no idea what they relate to - because there is apparently no way of sorting by DATE (my bad if I am wrong on this point). It is full of duplicated folders and files representing trips - waypoints - POIs - tracks... (apparently only sortable alphabetically). The concept of data which is 'real' (and hence deletable) - versus so-called 'list' data which is a kind of 'shortcut' to the real data - is utterly baffling mostly because you can never work out which is which. Which makes confident deleting and hence tidying up very difficult. Also very fed up with my (admittedly mid-range) device's mapping - and the even more basic map on the PC - which even on the hi-res PC screen looks like a child's crayon drawing - Icons in very low resolution but huge size that obscure the area you are looking at - roads are straight lines and poor definition with jaggies and ..... well, compared to online maps like Bing OST and of course Google maps seems 10 years behind. My mid-price device doesn't do terrain or topology either, making the choice of roads for (e.g.) a cycle ride impossible. Back to Google maps again (or a third party which uses it). The ability to control custom and 'standard' POIs - well I know it can be done but who has time to learn how? Everyone has these needs, why isn't there a menu item allowing to select/deselect categories? Don't even mention tagging photos (which appears simple-ish but without some basic improvements I'm unwilling to invest the time). Searching for a place is agonisingly slow (FAR slower than using the device directly which I find inexplicable) - and many 'types' of search remain unused as I can't wait that long to find out where a 'thing' is (e.g. a venue I plan to visit). far better to look up the address on google maps in less than one second and then copy that address into Basecamp (but as noted, I usually can't be bothered to use basecamp for trip planning). So I guess millions of Garmin users don't use Basecamp as they don't need to. But I want to maintain a trip log so I can see where I've been. Currently the chaos of the tracks saved, waypoints I might or might not have visited (I can't remember), and the horrible quality of the mapping - makes the sole purpose of Basecamp (reviewing your trips with ease and pleasure) an utter nightmare. (And I have not always - and will not always - be a Garmin user - so I want to import ALL my legacy tracks in GPX or other formats). Since there are rivals to Garmin in both navigation and fitness tracking markets, surely there is software out there that can handle this? (also noting Google is not blameless in this market having changed their maps features more than once to the dismay of many users - but even they seem oblivious to the desire of many(?) to control their location /trip data - just like we have apps to control our finances and photos and ... everything else. Please will someone put me out of my misery??