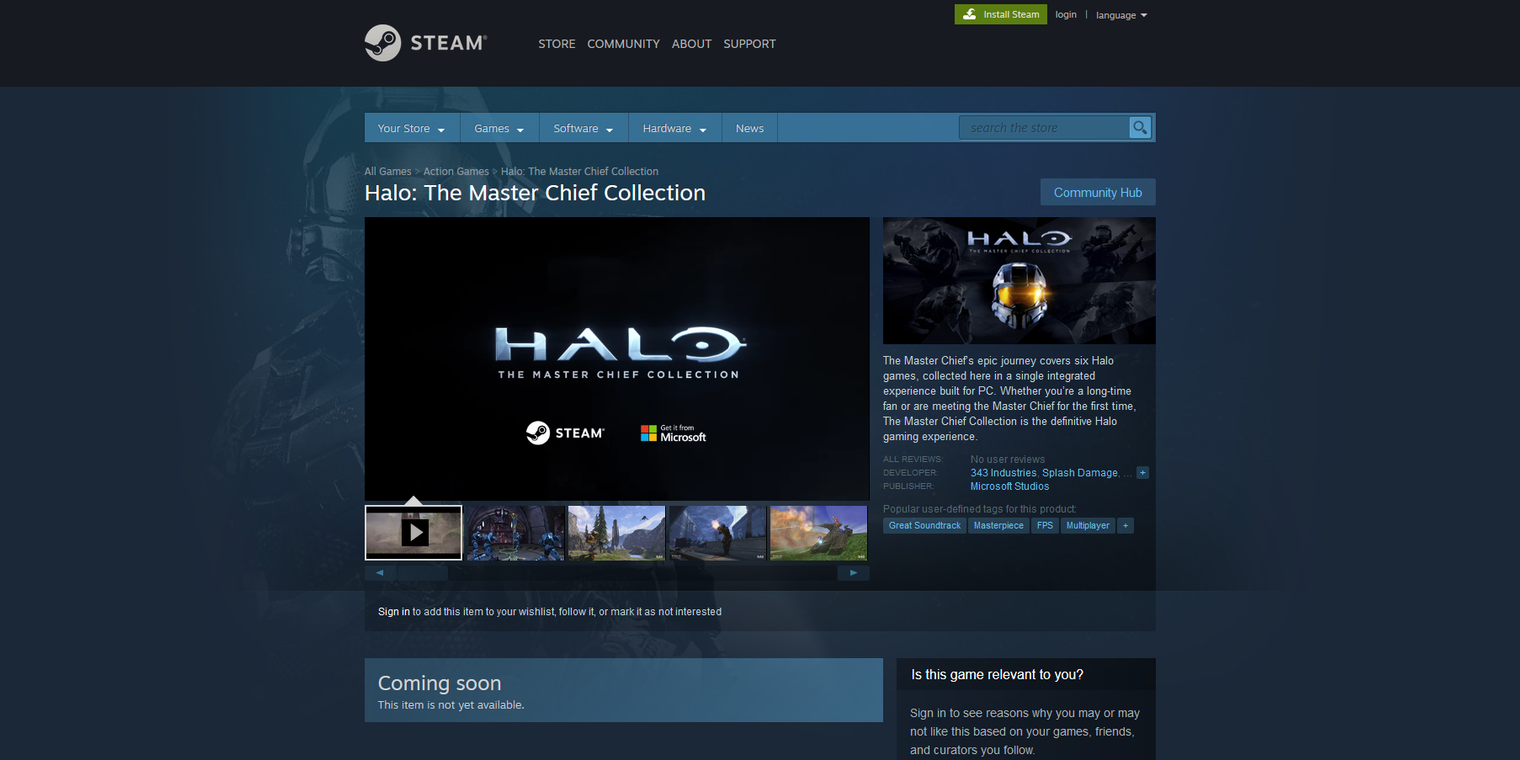 at 4:01 PM
Microsoft is bringing the mainline Halo series to Steam via The Master Chief Collection
Five years following the Xbox One release of Halo: The Master Chief Collection, Microsoft announced yesterday that it is bringing the game to the PC via both the Microsoft Store as well as Steam.
In a dedicated segment during Microsoft's March Inside Xbox live stream, Halo Community Director Brian Jarrard discussed some details about what the PC gaming community can expect from The Master Chief Collection's impending Windows 10 release. These details were later published via Microsoft's official Xbox press site as well as the company's official Halo site.
Some of the features that Microsoft is focusing on implementing for each title in the collection includes "mouse and keyboard controls, support for multiple resolutions and aspect ratios, field-of-view sliders, and adjustable framerates" as well as "support for Xbox gamepads and other PC controllers." More information about improvements tailored towards PC gaming will be detailed at a later date.
The release schedule for this collection of the mainline Halo series is different from its home console equivalent. Instead of being released all at once, the games will be released one by one "to ensure each one is right" and to "build a real PC experience that delivers on PC gamer expectations." The release order will follow the fictional chronology of the games as follows:
• Halo: Reach • Halo: Combat Evolved • Halo 2 • Halo 3 • Halo 3: ODST (campaign only, not its multiplayer) • Halo 4
The game will require users make an Xbox Live account even if it's purchased via Steam. However, there is no need to pay for the Gold subscription plan that Xbox One owners are required to in order to play multiplayer games online.
Though information such as pricing and a release window more specific than "later this year" weren't given with this announcement, Jarrard further teased on Twitter that more information will be shared on Sunday, March 17th during the Halo Championship Series Invitational taking place at South by Southwest in Austin, Texas.
Further coverage: Halo Waypoint Xbox Wire Ars Technica Engadget The Next Web The Verge VentureBeat
Comments
No comments so far, maybe you want to be first?

;