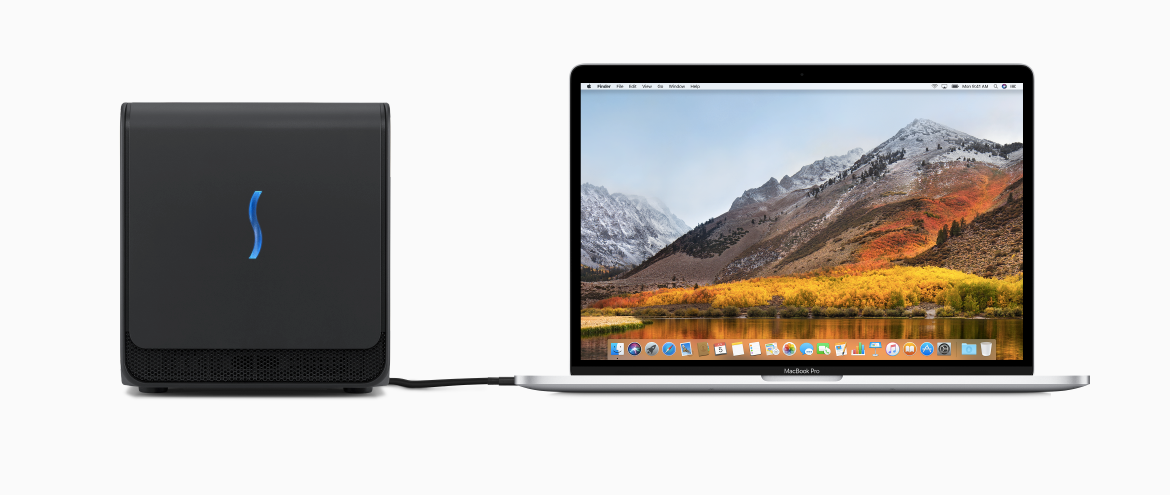 at 8:17 PM
macOS 10.13.4 introduces official external graphics card support
Apple has officially released the latest version of its flagship macOS High Sierra, 10.13.4. This update, alongside implementing some useful small functionality (including enabling the use of Command+9 in Safari in order to reach the built-in browser's right-most currently open tab), has officially added compatibility with external graphics processing units (eGPUs) for use with more graphics-intensive tasks. These tasks can range anywhere from rendering in virtual reality to high quality graphics in gaming software.
Here's how Apple's official support page for High Sierra 10.13.4's external GPU support describes the pros of the functionality in bullet point form:
Accelerate applications that use Metal, OpenGL, and OpenCL
Connect additional external monitors and displays
Use virtual reality headsets plugged into the eGPU
Charge your MacBook Pro while using the eGPU
Use an eGPU with your MacBook Pro while its built-in display is closed
Connect an eGPU while a user is logged in
Connect more than one eGPU using the multiple Thunderbolt 3 (USB-C) ports on your Mac
Use the menu bar item to safely disconnect the eGPU
View the activity levels of built-in and external GPUs. Open Activity Monitor, then choose Window > GPU History.
For more information on what this update adds, see Apple's official about page for macOS High Sierra 10.13.4.
Comments
No comments so far, maybe you want to be first?